Miranda
This is the first book in a series of self-help fiction titles. By reading about the lives of fictional characters, the reader learns much about how to unravel present day problems. The understanding of stresses that began in childhood years casts light on why the characters are struggling with the difficulties that they are having now. Newly unemployed, Miranda is feeling directionless and dejected. Then she encounters Kate, a former work colleague. Kate is now facing redundancy. Their friendship is rekindled, and as the two women share their problems and dilemmas, they begin to confide about experiences that have affected their lives.
Lynne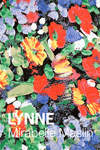 Victimised by the new office manager and worried about her mother's health, Lynne feels at a very low ebb. When she decides to be more open with her mother about her concerns, she is surprised to find that they both benefit.
Field Fare
Deep in the Cheshire countryside, Philip Thornton has created Field Fare &emdash; a hotel with a special reputation for its game dishes. The building contains a secret, known only to Philip. Feeling lonely while her husband, Grant, is away, Teresa dines at Field Fare, and Philip entices her to sample a unique cordial. When Teresa confides about her experience to Carrie, her young hairdresser, she learns that Carrie has had a similar encounter. Could there be more? Concerned, Teresa approaches her friend, Monica. Aided by Grant, they devise a plan...
Jasmine
Jasmine has finished her studies. She secures a temporary job, but her father's unforeseen redundancy means that her family will have to move away. Jasmine is determined to become fully independent. Encouraged by friends, she begins to set up a business of her own and looks for somewhere to live. Leaving her family involves practical difficulties and emotional challenges. Mutual confiding with friends and flatmates leads to helpful outcomes for everyone. Some eating problems are included.
To learn more about these titles and to purchase please visit Augur Press